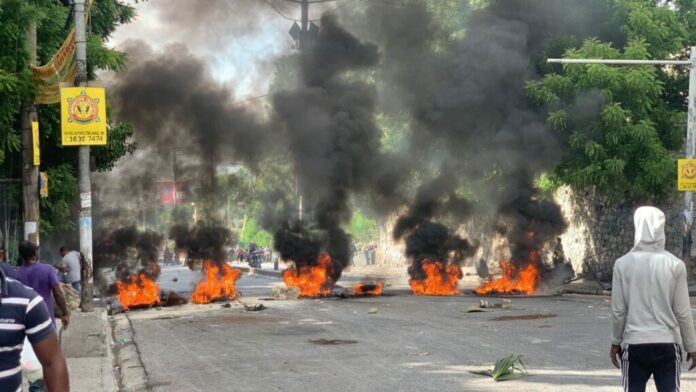 Operation "Peyi Lòk" version 2 is officially launched in Port-Au-Prince
Roads are still blocked in the metropolitan area of Port-au-Prince this Monday, September 19, 2022.
Even if some roads were opened yesterday, especially in Pétion, most barricades remain in several neighborhoods.
South of the capital all arteries are blocked even motorcycles can not cross the neighborhoods of Carrefour Feuilles, Fontamarra, and Bolosse.
Abandoned vehicles are used to block many stretches of road.
Even the National Palace is inaccessible because of the garbage and stones that litter the roads.
Many citizens made their journey on foot, finding it difficult to make their way through the barricades.
In a new development, heavy automatic weapons were heard in the upper districts of Delmas this morning.
Several personalities have made appeals to create humanitarian corridors to facilitate the movement of patients, ambulances, doctors, law enforcement, and the media.
In other areas, scenes of looting were reported by the media.
Will things ever get better in Haiti? Leave a comment below.